Azad Jammu And Kashmir Medical College () Muzaffarabad Programs Courses and Fee Structure 2019
Institutes
Azad Jammu And Kashmir Medical College Muzaffarabad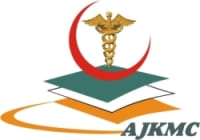 Brig.(R) Ahmad Khan
Azad Jammu And Kashmir Medical College , Muzaffarabad
Head : Principal
Phone : N.A.
Address : MUZAFFARABAD-AJK
E-mail : contact@eduvision.com
Website; : N.A.
Azad Jammu And Kashmir Medical College , Muzaffarabad is Recognized By:

Courses, Programs and Fee Structure of Azad Jammu And Kashmir Medical College
Discipline
Degree Name
Fee/Year

Bachelor / Undergraduate Programs and courses by Azad Jammu And Kashmir Medical College (), Muzaffarabad and Fee structure 2019

Medicine - Mbbs
MBBS
37000
Medicine - Mbbs
MBBS
37000
Most of the details mentioned are of regular programs. However, some universities and colleges also offer online courses and distance learning program. Details of such online courses and online classes are also included. Although some course may be offered through both mode of study i.e. regular programs, distance learning and online classes. However, details of courses that are offered through Private examinations are not included. For such programs and their details, please visit examination section.

Facilities such as vehicles and transportations are offered mostly by universities. For details of transportation, number of vehicle / buses or vans may be obtained directly from institutions.

Many universities offer scholarships and students loan scheme or financial Assistance. For details of scholarships, Loan schemes and financial assistance, please contact university student affairs department.