Infographs for Career Wall
A major reason behind unemployment and thus poverty in the country is the lack of awareness among the students about the wide range of careers they can pursue after completion of their degree. Despite the fact that 800 careers and 400 disciplines after intermediate are available in Pakistan, the nation can make no use of it due to lack of information among the students.
Eduvision has found an effective solution to this concern in the form of 'Career Infographs'. A career infograph is a beautifully designed poster covering all the careers available in a field of education. These careers are divided into three categories depending upon their ranking and educational requirements.
One wall at each institution will be designated as Career Wall with 13 Career Infographs posted on it and each infograph will cover one field of education. This wall will, no doubt, be an ultimate source of guidance for the students of the institution.
OBJECTIVES
To provide career guidance to the students at their door step
To inform the student about the extensive job market they may step into
To exterminate uncertainty and tension among the youth regarding their future
Career Planning
Workshop

Counseling Training

Career Walls

Seminar

Counseling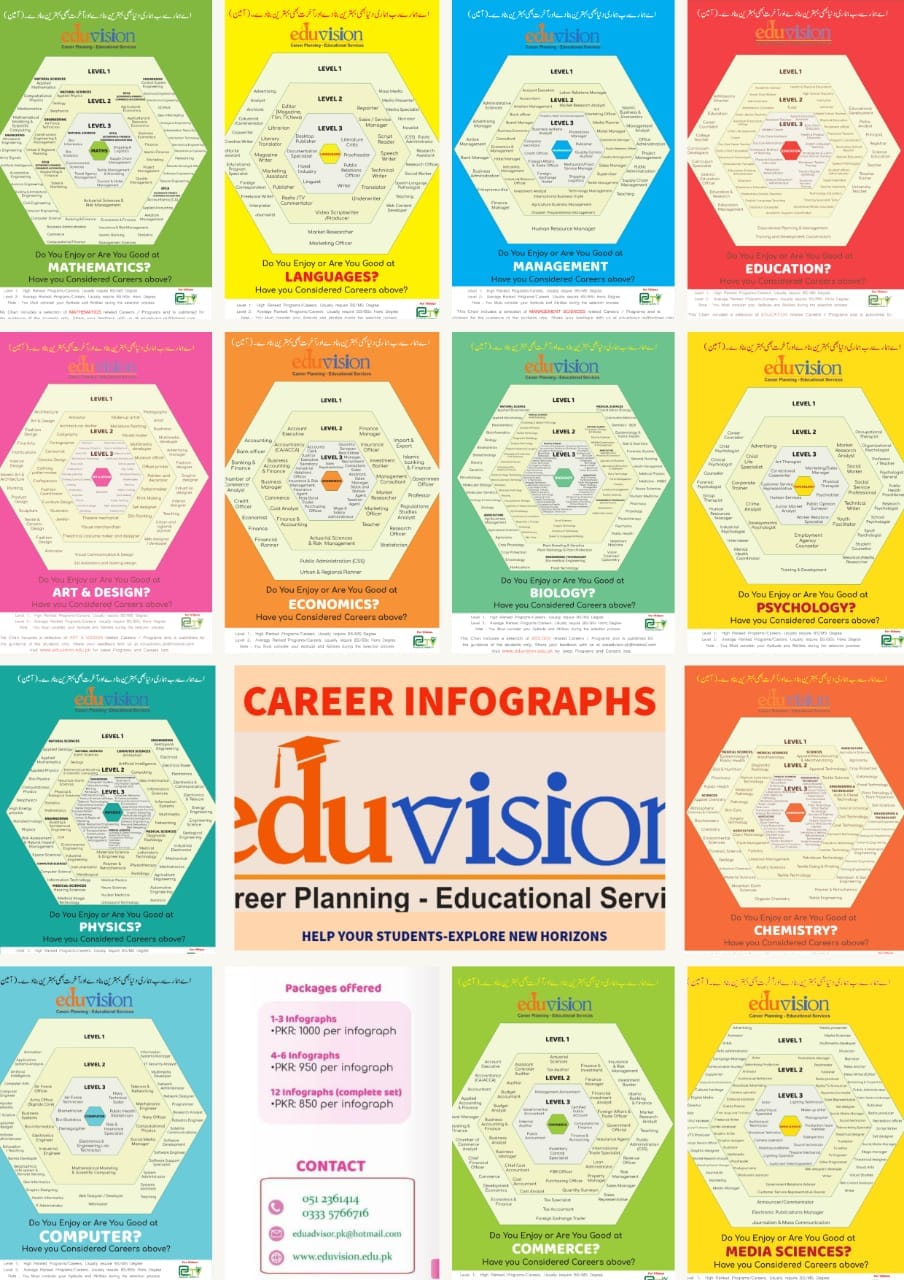 Infographs for Career Wall at a Glance
Career Walls
Decorate with Panaflex Infographs
13 Infographs
for Career Wall (30*20 inch each)
High Quality
Japanese Printing Panaflex
150+ Careers
Listing and Categorization
Easy to Understand
for Matric and Inter Students
Subjects Based
Career Listing for Each Subject
Ranking
of All Careers in 3 Levels
Career Scope
Levels based on Market Trends
Complete Set 13 Infographs
Only Advance Payment Shall be accpeted
Payment can be made online through Bank Deposit
3-4 Days Delivery Time After Payment Confirmation
All Pakistan: Through TCS
Place your Order by Calling at 051-2361414 or 0333-5766716 or by sending an e-mail to eduadvisor.pk@hotmail.com
Beautiful design – decorate your institution with purposeful posters
Let your students know that you care for their career
Help them find the best careers
Promotion through Social Media/li>
Career Wall Pictures shall be displayed on Eduvision Website Home Page with Your Institution Name
1 Page Brief Introduction of your Institution with College and Career Wall Pictures in News / Blog Section