Yusra Medical & Dental College (YMDC) Islamabad Programs Courses and Fee Structure 2019
Institutes
Yusra Medical & Dental College YMDC Islamabad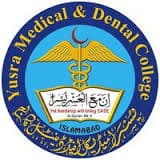 Yusra Medical & Dental College YMDC, Islamabad
G.T Road, Kahuta Morr, PO Model Town, Humak,
514492811
info@ymdc.edu.pk
Bachelor / Undergraduate Programs by YMDC, Islamabad and Fee 2019
Post Inter Dip Cert Courses by YMDC, Islamabad and Fee 2019
Most of the details mentioned are of regular programs. However, some universities and colleges also offer online courses and distance learning program. Details of such online courses and online classes are also included. However, details of courses that are offered through Private examinations are not included. For such programs and their details, please visit examination section.
Explore More Options