CAREER COUNSELING SEMINAR AT APS RAWALPINDI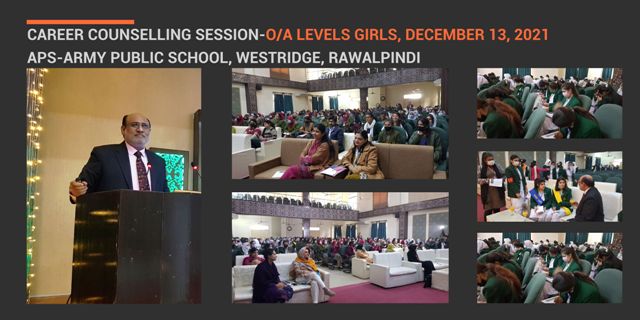 Eduvision organized a career counseling seminar at Army Public School Pasban, Rawalpindi today on December 13. 319 first-year and O-level students from the boys' wing and a large number of faculty members participated in the 'Design Your Future' Seminar. Senior career counselor, Mr. Yousuf Almas encouraged students to evaluate themselves and explore their careers options. Students attentively listened as Mr. Yousuf Almas thoroughly explained the different pathways and steps to a successful academic and professional career.
An interactive activity was conducted during the session to help students evaluate their interests, abilities, and career options for planning their career journey. Towards the end of the session, students were also provided an opportunity to discuss their concerns and ask questions regarding their career selection. The question and answer session lasted for about half an hour.
Very positive and enthusiastic feedback was received from the students and faculty members. Dozens of students and faculty members requested eduvision team to conduct frequent sessions and workshops for further assessment and guidance.
Career Planning
Workshop

Counseling Training

Career Walls

Seminar

Counseling