Eduvision conducted two days Career Planning Workshop at Cadet College Choa Saiden Shah, Chakwal on September 24-25, 2016. The workshop was aimed at assessing student's aptitude and inclination to guide them to the most suitable career path which best suit their personality traits, strengths, work style and values. 160 students of FSc Pre-medical and Pre-Engineering groups participated in the workshop.
On arrival at the institution, eduvision team was warmly welcomed by the Principal, Prof. Iftikhar Ahmad Raja and faculty Members.
The Workshop was comprised of 6 Major Sessions.
1. Opening Session
Opening Session was started with the recitation of Holy Qura'an. Principal Cadet College Choa Saiden Shah, Prof. Iftikhar Ahmad Raja, warmly welcomed eduvision and expressed his gratitude to eduvision team for organizing such an important event. Mr. Yousuf Almas, CEO Eduvision, in his speech, presented a brief introduction of career planning, and guided the students on different activities which they will perform during the course two days. 3 groups of students were selected to perform different activities.
2. Assessment
In this session, students performed a number of activities and solved dozens of problems related to different areas. The assessment helped in identifying aptitude, attitude, strengths, working style, and true potential of each student. Prior to the Assessment, each student was allotted a unique registration number.
3. Group Counselling
In group counselling session, students were divided in groups of 20 students. Each group was called separately. Students were asked to provide the details of different activities they had performed in their institution, homes and in the society in addition to a number of other factors that play an important role in career planning. Group Counselling session helped in creating the absolute portfolio of each student and his background.
4. One-to-one Counselling
In one-to-one counselling, each student discussed his concerns and issues with the country's leading Career Counsellor Mr. Yousuf Almas. Each student was given proper time and was encouraged to discuss academic, career related, social and familial problems.
5. Information and Guidance Session
Mr. Sohaib Ahmad Khan, Program Manager Eduvision, guided the students of pre-medical and Pre-engineering separately about the fields and careers available in Pakistan, their scope, nature of work and qualities required to excel. Students were also guided about admission process, entry test, CSS and Pak Army selection procedure. At the end of the session, questions of the students related to different fields, admissions, and universities were answered.
6. Closing Session
In the closing session Mr Yousaf Almas appreciated the institution for taking interests in students career counselling. Mr. Yousuf Almas also mentioned that students of Cadet College Choa Saiden Shah are academically and socially sound and they can compete with any top institution of the country. Mr. Yousuf Almas also thanked Mr. Rizwan Ahmad, Lecturer Urdu, and Mr. Tehseen, Lecturer Fine Arts, for providing excellent coordination and support for conducting all the activities.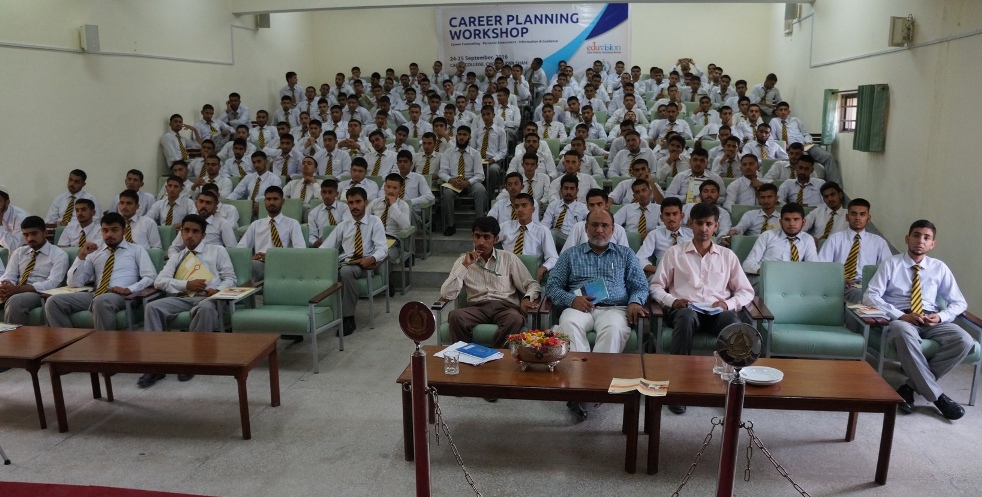 CAREER PLANNING REPORT
Career planning report of each student appearing in the workshop shall be prepared by eduvision, mentioning student's traits, work style, attitude, abilities and values. In the report, each student shall be advised to opt one of the five recommended career, which best suits to his attitude. The Reports of the students shall be delivered to the institution within 1 Month.
COMMENTS OF THE STUDENTSM.Usman Malik: 2nd Year
This session was amazing and I enjoyed a lot .I would like to suggest you to keep it up.
M.Mujtaba Baig: 1st Year
It was really very amazing seminar for our future planning. Thank You
M. Bilal Qasim: 1st Year
Career counseling is a good platform provided by eduvision. It helps many students like me to get full awareness about different fields of life and helps students to confidently choose their fields.
Muhammad Ali: Ist Year
Career planning workshop was good effort by Eduvision which helped us getting more information about careers in Pakistan.
Assad ur Rehman: Ist Year
This session was mind-blowing and the best part was group counseling which helps me to judge myself.
Abdul Rehman: 2nd Year
This session was awesome. I am impressed very much. Too much knowledge and guidance in this workshop.
M.Awais khan: Ist Year
I really like career counseling session before this I was no idea about my career and now I have many options.
Aleem Sultan: Ist Year
Nice to see Eduvision doing a nice and decent job & extracting out capabilities of students & helping them in choosing right professions.
Ch. Asfand Haider: 2nd Year
This was marvelous session. I think that if I would be selected in the field recommended to me, I would be more successful and satisfied with my work.
Ahsan Ali: 2nd Year
The seminar was fabolous, interesting & informative. The interesting session was intelligence test. First time I gave maximum exercise to my brain and identified myself a lot. I appreciate a lot to Eduvision team that they are doing a good job.
Muhammad Irteza Sargana: 2nd Year
It was a good session, gained a valuable piece of knowledge for my future career.
M. Imran: 2nd Year
It gave me information about many more fields which I was not aware before this session. I request Eduvision team to continue their struggle and help the youth to make a good career & give progress to the country.